Publication date: 1st December 2014
Paperback edition: -
Source: Kindle
Rating: 5 stars
Synopsis: After being ripped apart by the girl he thought returned his love, Ryley Jameson swore that it would never happen again. He was one of the top UFC Middleweight fighters, along with his twin brother, Camden. Pursued by countless women, he didn't need Ashleigh Warren, or the way she made him feel. The others could help him forget, and he believed it for a while. At least until Ashleigh comes back into town, turning his world upside down.

Ashleigh regrets her decision in letting Ryley go, but the fear of getting her heart broken outweighed all sense of logic. Now that her suspicions are confirmed, she has no choice but to face him again, but now she wants him back. Even though he loves her, Ryley doesn't make it easy on her and neither does Camden, especially when he finds out what Ashleigh's been hiding. In his attempt to tear his brother and her apart, it not only threatens their love but puts the one thing they share together at risk. Jealousy is Camden's driving force, but revenge is much sweeter. Ryley's determined to make him pay . . . even if it means crossing over to the dark side.
I was really excited about reading this book! Both the main characters in this book had their own novella, which started off their story and set up the events of this book! This book obviously takes place after that novella and continues the characters story! I would also recommend that you read the novella before this book to give you a better idea of how the characters story started! I loved this book! It continued on the characters story perfectly, and I had a hard time putting it down once I started reading! I was really drawn into the story! The plot was amazing! It had plenty of action and romance in it, and it had a bit of suspense too! There were also plenty, and I mean plenty, of sexy scenes too! And they were seriously hot! I loved them all! The plot also had a lot in it, a solid plotline, and I read it in a few sittings too because I couldn't put it down! I thoroughly enjoyed it, and there were quite a few things that happened in it that I wasn't expecting!
The characters were amazing! Ryley was the main male character, and he was so hot! I loved him in the novella, and I loved him even more in this book! Ryley was such a kick-ass character and I loved that he made his love interest prove to him that she wanted to be with him! That was definitely the right thing to do because of how they left things! Ryley also had a lot on his plate in this book and I felt really sorry for him! He handled it all very well though! Ryley was also very protective of his love interest, which I could understand! This made him hotter in my opinion lol! I just loved him, and I loved the way he was with his love interest!
Ashleigh was the main female character, and I sort of had mixed feelings about Ashleigh in the novella, and then I had mixed feelings again about her for maybe the first 30% of this book! I don't understand why, but I did! As the plot progressed though, I started to love Ashleigh more and more! She really proved herself to me in this book, and she also went through a lot too! I loved Ashleigh's honesty and she really came out of her shell more as the book progressed, which I loved! The more she came out her shell, the more I could connect with her!
I loved that this book was written from both Ryley and Ashleigh's point of views! It really helped me connect more with the two characters, and it also kinda had to be written from both of their point of views because they're separated at the beginning of the book! I also loved that characters from the other books appeared in this book! They always add a lot to the plot! I can't wait to read the next book in this series! I know that it's not going to be about Ryley and Ashleigh and that it's going to be about secondary characters in this book, Paxton and

Gabriella,

but this has made me more excited for it! I can't wait to read their story! The cover for this book is seriously hot! I love it, and I love how well it suits the other covers in the series too! Big thank you to L.P. Dover for an A
RC of Ryley's Revenge and to Inkslinger PR for having me on the Blog Tour!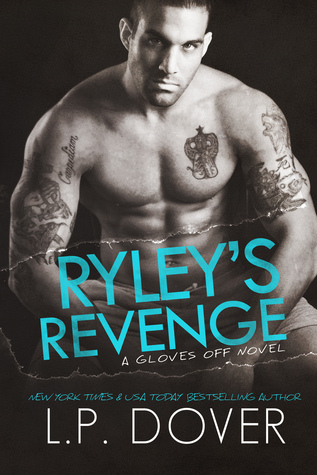 USA Today Bestselling author, L.P. Dover, is a southern belle residing in North Carolina along with her husband and two beautiful girls. Before she even began her literary journey she worked in Periodontics enjoying the wonderment of dental surgeries.

Not only does she love to write, but she loves to play tennis, go on mountain hikes, white water rafting, and you can't forget the passion for singing. Her two number one fans expect a concert each and every night before bedtime and those songs usually consist of Christmas carols.

Aside from being a wife and mother, L.P. Dover has written over nine novels including her Forever Fae series, the Second Chances series, and her standalone novel, Love, Lies, and Deception. Her favorite genre to read is romantic suspense and she also loves writing it. However, if she had to choose a setting to live in it would have to be with her faeries in the Land of the Fae.